I started not so well this year fantasy but I think I might recover from a bad start and make a good season.
Last Saturday I got the most points from two players I confess I don't pay attention.
Now I'm searching for his cards throughout my collection.
17 points from Elvis Andrus.
Texas lost his super star but Andrus and others might have the space to show their stuff.
5-5 people! He almost went for the cycle!
2009 Upper Deck #944
I discover I have his RC from the last Upper Deck licensed set.
And if Andrus didn't hit a HR to go for the cycle Adam Jones did.
I have this Bronze parallel of him from the '10 T206 set. Jones is doing better than bronze.
2010 Topps T206 Bronze #196
And Baltimore lose and Jones gives me 10 points.
That's how I like it in fantasy. The teams I want to lose in order to let my Yankees win the division do actually lose but their players that I have in my fantasy team can make the game of their lives!
And If I thought Saturday was good Sunday were even better!
And why!?
Yep.
Miguel Cabrera did it again!
He went 4-4 with 3HR!
Let the Triple Crown passsssssssssssssssssssssssssssss...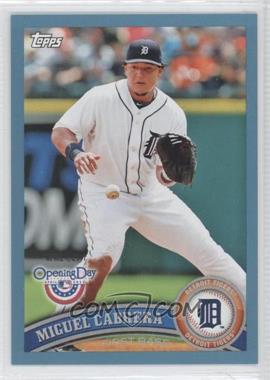 2011 Topps Opening Day Blue #100
I have a Blue numbered card of him and shamefully I needed to get the picture from comc.com because I haven't yet got the pictures of my 2011 Topps OD cards.
But my numbered card is the 251/2011.
It's cool to have a Cabrera card with him fielding.
And besides Cabrera I also got a good amount of points from a Red Sox man, Mr. Pedroia.
They say Pedroia has some Portuguese family so I might as well give him a break for the fact he's one of the faces of Boston.
2010 Topps Allen & Ginter's #106
I have only a couple of Pedroia's cards. But maybe I have more and I just didn't write them down on my file.
But this '10 Topps A&G card is quite good.