Yep. I got one card of a player I've never saw during playing years but know him from baseball world.
It's our skipper.
I only got to watch baseball back in '09. That's when my cable operator added ESPN America to the channels list.
So it was only then that I could assist an entire season. Or a single game for the matter.
And it was back then that I was introduced to Mr. Girardi.
I didn't even know he used to play for Yankees! I was that far away from baseball.
You can try and follow it from the web, by reading or watching youtube videos but is not the same thing I can assure you.
It only makes me feel like I'm really across a long ocean.
This card came in one of the 3 '90 Fleer packs I got alongside the '90 Upper Deck packs when I decided I'd try to know more about vintage players.
Yes, '90s is vintage for me because I know nothing from that time and even less I'd know from the '80s, '70s, and so on.
What I learned so far about baseball and collecting all came from the blogs I read and the possibility of buying some packs and boxes from time-to-time.
So with this card what did I learned?
I've learned that the first Girardi ML club was the Chicago Cubs for which he debuted in '89.
Also learned that he had changed nothing. The same looks. Only older of course, but the same Joe.
On the card back...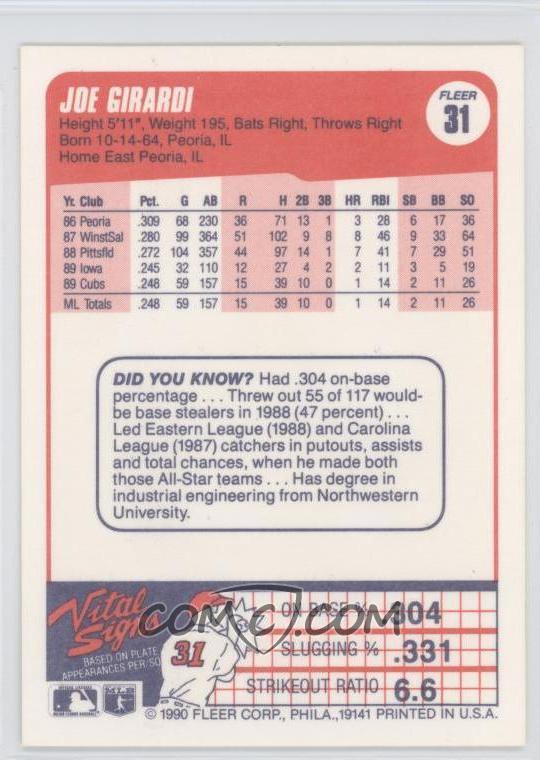 ...I also learned he has a degree in Industrial Engineering.
That's cool.
E got one HR in his rookie year that's not bad. And he had .661 hits/game. Again not bad, thinking Catchers are not that impressive with a bat.
Girardi woulf play for Yankees between '96 and '99. I'd like to have at least one card from those years.